BANDANA Ride – About Joshua Duncan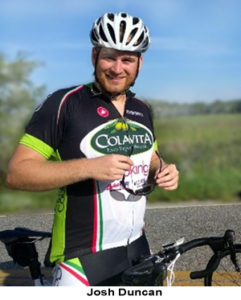 Joshua Duncan was struck by a car while riding his bicycle on Wednesday, August 31. Around 6:45 p.m., troopers responded to the scene of a crash on Highway 101 near the town of Woodruff. Josh was transported to the hospital where he later died from injuries sustained in the incident. Duncan was reportedly wearing a helmet when the crash occurred.
From his friend, Rob Brunken
"Josh was a pretty awesome guy. He got hooked on cycling in May, already upgraded his bike, and increased his annual mileage goal (he beat it quickly). He would always joke about how tough the hills were on him, often times sending comical, yet highly over exaggerated, pictures or memes after the rides. He was motivated to improve. He went from riding 13 mph to 17-18 mph. He left behind a one year old daughter that was his life. And I think he wanted to be in the best shape for her. He had lost 20 lbs since he had been riding."
Link to news coverage
Proceeds from The Banana Benefit Ride will memorials be given to a fund for his daughter, Hayden.