Order Freewheelers kits – orders closed for 2020.
Kits back on sale through September 8.
Max, and Velocity jerseys, bib shorts are available in addition to cold weather gear. IF you order a MEN'S MAX jersey: size up one size.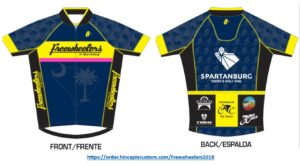 Follow the link provided here:

https://order.hincapiecustom.com/Freewheelers2020

If this is your first time ordering with Hincapie Sportswear, click on "Create Your Account Now."

If you have ordered with us before, click the "Log On" icon in the top right corner of your screen.

Shop and add any items to your cart that you would like to order.

Once you have selected everything you would like to order, click on your cart then click "Continue."

Double check to make sure that your billing address is correct.

ALL ORDERS will ship to Larry Hart to save on individual shipping. Freewheelers will distribute.

Click "Continue" to proceed through the checkout process.