Freewheelers kits are back on sale through 5/27/19!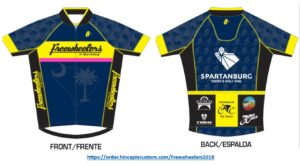 Due to popular demand, the store is open – Only for 2 weeks, so order now!
Max, Velocity and Axis jerseys are available in addition to cold weather gear.
Below are the instructions to select items and pay for their order at the same time. The store will close on May 27th at 11:59PM ET.
Follow the link provided here:

https://order.hincapiecustom.com/Freewheelers2019

If this is your first time ordering with Hincapie Sportswear, click on "Create Your Account Now."

If you have ordered with us before, click the "Log On" icon in the top right corner of your screen.

Shop and add any items to your cart that you would like to order.

Once you have selected everything you would like to order, click on your cart then click "Continue."

Double check to make sure that your billing address and shipping address is correct. Please note that Hincapie CANNOT ship to a PO Box and a signature WILL be required upon delivery.

Click "Continue" to proceed through the checkout process.