Join the Freewheelers Now for 2019 for $25 (Single Membership)!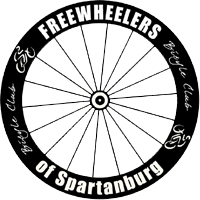 Membership drive for 2019 is open!  $25 for Singles and $35 for Families. Join now,  your membership will be good through the end of 2019.
By joining the Freewheelers you help support bicycle advocacy in the Spartanburg area. Membership also provides members opportunities to network with other cyclists through the
online message board
 for rides and events.
Club membership is no longer be a requirement to participate in the Assault on Mt. Mitchell. 
But those who do join / re-new club their membership will receive a $10.00 discount on the Assault on Mt. Mitchell registration.
  Your code will come in a welcome email.  You will also receive a $20.00 gift card from the
Trek Store
here in Spartanburg!  What a deal!
Benefits and examples of what we do: